Hats off to Esther Howland, early artist and businesswoman.  We can thank her for Valentines cards, and in general for all Hallmark cards I'd say…
Ephemera that contests its name!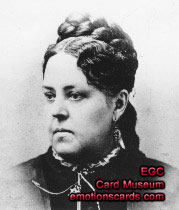 Esther Howland (1828 – 1904)  She from graduated Mount Holyoke College in 1847 at the mere age of 19. Howland received an ornate Valentine from an English business associate of her father.  She saw a lucrative idea behind it and began to create and market her own brand of Valentine's Day greeting cards.  Soon her business was thriving in Worcester, MA.  She sold it in 1881.  Female entreprenurial spirit ahead of its time- awesome.  Happy Valentines Day, Esther!
If you dislike the Hallmark nature of this holiday, I agree- mass produced is boring and lame.  So keep supporting the unique and handmade by purchasing future cards and stationary from small businesses and Etsy sellers!